Capel Manor College Horticulture Students Gain Coveted Places on the Kew Diploma Course
Two of the College's horticulture students, Frances (Fay) Davies and Selina Tan have been offered places on the prestigious Kew Diploma course starting this September.
Fay and Selina both studied the RHS Level 2 Certificate in Garden Planning, Establishment and Maintenance at Capel Manor College's Regent's Park campus.
As there are only 15 places available per year on the course, this is a fantastic achievement for both students, as well as the College. The Kew Diploma is the world's foremost qualification in botanical horticulture.
The Kew Diploma in Horticulture is self-accredited by the Royal Botanic Gardens, Kew and is viewed as a higher education qualification. The School of Horticulture at Kew has been described on many occasions as a centre of excellence and as such is at the very heart of world-wide horticultural and botanical education.
Student, Fay Davies commented on her experiences at Capel Manor College and her development as a horticulturist: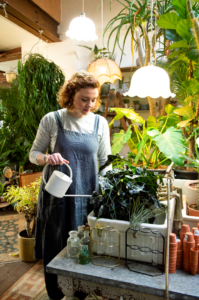 "The RHS Level 2 Certificate in Garden Planning, Establishment and Maintenance has been an important part of my professional development as a horticulturist. The course was instrumental in refining my knowledge and giving me confidence to pursue other avenues within the industry.
I have a fascination with plant conservation that has been present throughout my career. Working with hundreds of incredible species over the years I am painfully aware that some of them have become extinct in the wild, due to habitat loss, competition factors and even as a result of the plant industry.
Botanical Gardens are a vital resource in both the appreciation for plants and in providing context and understanding of where each group of plants come from, their connections to each other and the threats they face when this is disrupted.
At Kew I hope to study the unique relationships formed between species in the wild in the hope to be a part of the vital preservation and conservation of plants and biodiversity."
Student, Selina Tan shares her experiences of applying for the Kew Diploma: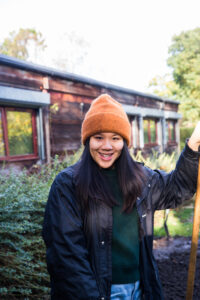 Credit: Monica R. Goya
"Earning a spot on the Kew Diploma course has been one of the biggest achievements in my horticultural career. Three years ago, when I decided to change careers from being a photo editor to a gardener, it never occurred to me that applying to Kew would be possible. I thought it was way out of my league.
The application and interview process was a nerve-wracking and somewhat gruelling experience. I thought the interview was pretty challenging however, do not let that deter you. The Kew Diploma has candidates from a wide range of backgrounds and experiences, you do not need anything fancy to apply, just a commitment and passion for the craft. For anyone hoping to apply, I would say get as much experience as possible and just absorb all the knowledge you can. Horticulture is such a broad industry with so much to offer."
As Fay and Selina begin their journeys with Kew Gardens this month, we wish them all the best in their next chapter in the horticultural world.
Feeling inspired to study horticulture?
Capel Manor College has been a centre for horticultural studies since 1968 and has developed an unrivalled reputation for excellence and strong industry links.
We offer a variety of full and part-time horticulture courses at all of our campuses across London. We also have a range of horticulture apprenticeships available.
By studying with us, you will be introduced to a unique array of plant species and collections, both within our campuses and across the capital, providing you with the opportunity to work within some of London's most prestigious parks and gardens.
Discover your potential at London's environmental college. Browse courses and apply online today.