Restoration of Historic Palace Garden in Italy Designed by Former Capel Manor College Student
Work started towards the end of last year on the redevelopment of the Garden of Palazzo Schifanoia, as part of a post-earthquake repair project to the complex which includes a museum. The garden is the last stage of this carefully, executed project.
Manfredi Patitucci studied arboriculture and garden design at Capel Manor College, graduating in 2009 with a Foundation Degree in Garden Design. After completing his studies, Manfredi returned to his hometown in Ferrara, where he has worked as a garden designer ever since, and most recently managed the landscape design and operational management of the €120,000 Palazzo Schifanoia project.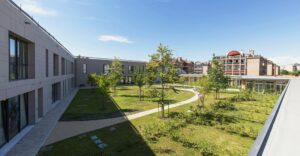 The Palazzo Schifanoia is a Renaissance palace in Ferrara, Italy built for the Este family. The name "Schifanoia" is thought to originate from "schivar la noia" meaning "escape from boredom" which describes the original intention of the palace.
Manfredi's design includes plans to recompose a margin along the northern part of the garden enriching it with two metal pergolas, hedges and fruit trees. This composition is aimed at plant species and cultivation practices drawn from the Renaissance tradition of gardening.
You can read Manfredi's full success story here.
If you are creative and artistic, and enjoy architecture and the outdoors, then one of our garden and landscape design courses could be perfect for you.
Capel Manor College has a long-established reputation for delivering garden design courses of the highest quality with a core focus on today's challenges of climate change, sustainability, and health and wellbeing.
We offer a range of full and part-time, nationally-certified courses, find out more here.