Floristry Students Impress at RHS Chelsea Flower Show 2023
22 students from the floristry department at Capel Manor College participated at this year's RHS Chelsea Flower Show on 22 to 27 May, exhibiting an eye-catching floral installation called The Five Senses of Wellbeing.
The College was granted the fantastic opportunity to attend just five weeks before the event started, so time was very tight for students to design the installation – most florists will usually have at least six months of planning time ahead of the competition.
As part of the planning and design process, students studying floristry were encouraged to submit mood board ideas for a chosen moon gate theme. All of the 22 entries were of such a high standard that tutors decided that elements from all of the participants' ideas would be combined to create the final three moon gate designs that were produced.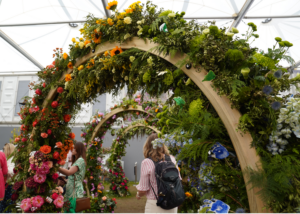 The installations created by Capel Manor College were bursting with vibrant, energising, uplifting colours and fresh materials, with each moon gate stimulating the senses around smell, taste, touch, sight and sound.
The first installation represented quality of life by promoting positive wellness, and how nature and colour can support our wellbeing.
The second installation focused on wellness around children. It was a rainbow-style design which is a symbol of unity, resilience and courage. Each colour zone had been created to express a child's emotion and how this can impact their wellbeing, linking to the international bestseller, 'The Colour Monster' by Anna Llenas.
The third installation concentrated on how nourishment is not only about feeding our bodies, but also the healing and feeding of our souls. Many of the botanical plants featured are also used in medicine. Some of the fresh flowers and plants used in the designs included, peonies, roses, grasses, eucalyptus, helianthus, delphinium and freesia.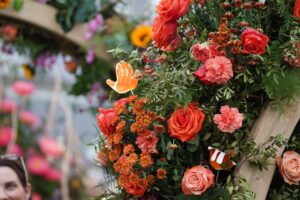 Capel Manor College's floristry students and tutors built the installations across five days before RHS Chelsea Flower Show opened. Attracting a global crowd, the show is the place to see cutting-edge design, new plants and gain ideas to take home.
You can see Capel Manor College students and tutors building their spectacular installations as they featured in coverage by the BBC. Watch here.
Capel Manor College is the largest, educational provider for floristry in London and offers accredited courses that ensure students are able to make a smooth transition from education to a working environment.
Discover full and part-time courses in floristry, event styling or balloon artistry at London's environmental college.  Our courses will give you the opportunity to gain nationally and internationally recognised qualifications. You can study at our Enfield, Gunnersbury Park, Mottingham or Regent's Park campuses. Find out more.