Capel Manor College Host Floristry Employer Roundtable Event
The College's floristry and event styling department hosted its first Floristry Employer Roundtable Event at New Covent Garden Market on Tuesday 16 May, as part of our ongoing commitment to ensure our students are equipped with the right skills to enter the industry.
Employers gathered from the wholesale, retail and hospitality sectors at New Covent Garden Market – the largest fruit, veg and flowers market in the UK – to discuss the positives, as well as the challenges of working within the flower industry.
Four student ambassadors (all career-changers) shared their experiences of studying at London's environmental college; Cassie Fox, swapped the fashion industry boardroom for floristry classes and has been inspired by her tutors to teach too; Siobhan O'Hara is upskilling as part of her role at Camden Garden Centre; Jayn Wills was assistant to her florist daughter Gemma who sadly passed away in 2021, Jayn was inspired to follow in her footsteps and has set up a foundation in Gemma's memory, which raises funds through a pre-loved clothes outlet and a flower stall, in Epping; and Julie Price, a former police officer fell in love with flowers while styling her son's wedding and decided to pursue a new career.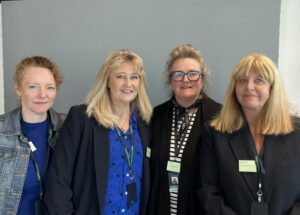 All of the students praised the College for providing them with fantastic work experience including the Radio Times Cover Party and RHS Chelsea Flower Show.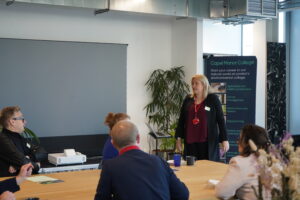 Capel Manor College's Head of Floristry and Event Styling, Louise Quigley said:
"We want to make sure our Level 1-5 floristry courses are equipped to drive florists into the industry. This event is to help us understand how trends and changes are evolving in the industry, and for us to acknowledge if there are any skills gaps that we as a college can close."
The College is the largest, educational provider for floristry in the capital and we deliver accredited courses that ensure our students are able to make a smooth transition from education to a working environment.
Guest speakers included Nikki Meader, Chair of the British Florist Association (BFA), Freddie Heathcote from wholesaler Green & Bloom, and Chris Jones, City & Guild Industry Manager for Land.
All speakers agreed that increased industry input is key to ensuring that floristry training institutions are capable of producing successful students that are equipped to enter the industry. As well as possessing the practical and technical skills for floral design, students need excellent communication skills, initiative, a can-do attitude and confidence.
The flower industry has encountered difficulty in recent years due to a variety of factors such as the pandemic, the growing popularity of online shopping, and competition from Dutch wholesalers. However, there are plenty of opportunities for change and growth, and as the demand for British cut flowers increases, there is a niche for everybody within the industry.
Are you thinking about studying floristry, balloon art or event styling? View our courses here.