Students Lead Charitable Initiatives at Capel Manor College
At Capel Manor College, our students and staff regularly take part in charitable causes and fundraising across all five of our London campuses.
Most recently, our animal management class of students studying the Animal Care Technical Diploma (Level 2) at our Enfield Campus wanted to support local animal charity, The Scratching Post.
The Scratching Post are always in need of donations for the cats in their care, especially kitten food and cat litter.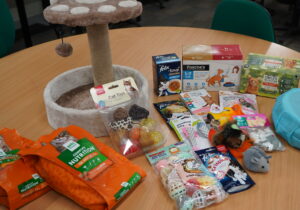 With the help of Sarah Jay-Voller, Animal Care Lecturer and Course Manager, students raised awareness and collected donations for the cat rescue centre. The donation drive resulted in lots of donations of cat food, toys, food and water bowls, and cat litter from staff and students across our Enfield Campus.
One of our higher education students and Course Representatives, Lucy Smith, came up with the fantastic idea of setting up a student food bank at the end of 2022 for all Capel Manor College students.
The College's Student Services and Wellbeing team have helped to collect non-perishable food items from College staff and students. Items requested include: dried pasta, cereal bars, tinned food, juice cartons and free-from items for those with special dietary needs.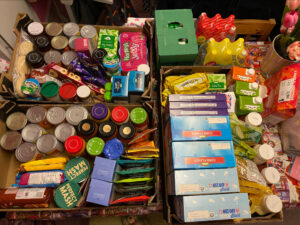 The food donations have been distributed amongst all five of the College's campuses. Students are able to view donated items and choose whatever they need. The initiative is popular, and is something that Lucy and the Wellbeing team hope to continue.
Find out more about student life at the College here.