Student Sarah Brown Wins 2020 Garden Design Competition
In 2020, Capel Manor College's garden design students were invited to submit a design that could be used to rejuvenate an existing display garden that Provender Nurseries will be taking over and sponsoring on the grounds of Capel Manor College's Enfield Campus later in the year.
The brief was to create a planted space that relates to climate change, show sustainability, educate and promote wellbeing. Following an exciting educational visit to Provender Nurseries, students were shown some newer plant options and were encouraged to incorporate the use of new varieties of plants that are held in stock at Provender Nurseries.
Julie Dowbiggin, National Gardening Centre and Plant Sales Manager at Capel Manor Gardens, said: "We have been working with Provender Nurseries for nine years which has been great for both students at the College and the visitors to the Gardens. Their nursery has a vast array of fantastic plants. They are always introducing new varieties which we strive to have in the gardens as this helps to increase the diversity that we have to offer."
Sarah Brown's design, which saw her win £250, was one of five finalists that went on to be judged by industry experts including Sophie Guinness, Curriculum Leader in Horticulture at Capel Manor College.
Sophie said: "This prize has been an amazing launchpad for our students in the past. To win such a generous prize and experience the publicity that accompanies it has been an enormous boost for our prize winners' self-confidence. Students have been able to advertise the prize and have used it as part of the marketing for their new garden design businesses."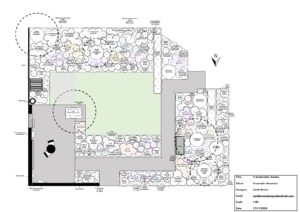 Sarah Brown's winning design entitled 'A Sustainable Garden' focused on a philosophy of creating a garden with habitats and food for pollinating insects and birds with a wide range of plants planted in large drifts to reflect this. The design incorporated several plants from the existing garden due to their ornamental and educational value to students.
Sarah, who previously worked in the film and tv industry, is looking forward to starting her own planting design practice and furthering her studies in Garden Design; with a focus on landscaping.
She said: "I am very pleased and proud to have won the 2020 Student Garden Design Competition. The opportunity to enter the competition, sponsored by Provender Nurseries, as part of the Level 3 Certificate in Plants and Planting Design was a great experience in designing to a brief for a real site."
Capel Manor College in London has a range of part-time garden design courses for adults starting throughout the year.
Discover a course that is perfect for you or join an upcoming Advice Session to find out more and speak to one of our expert tutors.