How Alisha Became a Professional Dog Groomer
Alisha Wingfield knew from a young age that she wanted to work with animals. She originally wanted to become a zookeeper but having grown up with dogs all her life, she knew that a career working with dogs would be the perfect choice instead.
Fast forward to today, Alisha now runs her own successful dog grooming salon – Scruff 2 Fluff Dog Grooming – in Hertfordshire, and it all started at Capel Manor College.
We caught up with Alisha to learn more about how her journey began and the ins and outs of her dog grooming business. She also shares some of her top tips to help aspiring dog groomers start their own business.
What courses did you study at Capel Manor College?
I studied Animal Care Diploma (Level 2), Animal Management Advanced Diploma (Level 3), and Dog Grooming Assistant Certificate (Level 2). Each course took one year to complete.
Why did you choose to study at Capel Manor College?
I chose to study all three of my courses at Capel Manor College because they have a lot of courses to choose from – the variety intrigued me. The College is very well organised, and the tutors are incredibly supportive. They help you to see what course is best for your desired career path.
The animal courses are great because you can explore different areas to understand what interests you most. After my second year studying animal care, I had one free year left of education and my partner said, "Why don't you study dog grooming?", as he knew I had a passion for dogs. I thought to myself, yes that's perfect! I had grown up with dogs all my life so I knew deep down this would be the perfect career choice. I never thought I would have such a successful career in dog grooming years later.
What qualifications did you gain, and did you need to complete additional courses to progress your career?
I gained two Level 2 qualifications and one part of a Level 3 qualification. I have also completed a day of hand stripping. I regularly attend seminars and workshops to continue furthering my knowledge. I am currently studying a Dog Grooming Stylist OCN qualification, which is the equivalent to a Level 3 qualification.
Did you do any work experience as part of your dog grooming course?
I completed two work placements during my time at the College. One being at Grooming Marvellous in Hertford and the other at Pet Styles in Hoddesdon. Both experiences helped me get an idea of what is involved in dog grooming and running a business. It was good to see how the different salons operated.
What were the main skills you learnt during your time at Capel Manor College?
The main skills I learnt were: the general handling of different animals, communication skills when dealing with clients and tutors, and how to maintain the health and wellbeing of all types of animals. I loved every minute of my practical lessons.
You now run your own dog grooming business. What is called and how does it function?
My business is called Scruff 2 Fluff Dog Grooming. We are based in Hoddesdon in Hertfordshire, and we are in a unit/workshop that operates as a shop.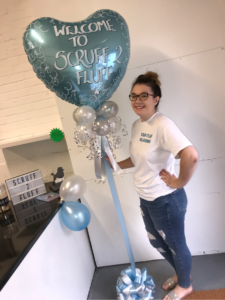 Alisha now runs her own dog grooming salon in Hoddesdon, Hertfordshire – Scruff 2 Fluff Dog Grooming – after studying animal care and dog grooming at Capel Manor College.
How did you start your own business?

I started in a small shop alongside another dog groomer that I was sharing the premises with. I also had a part-time job at Tesco. I slowly built up my client base from scratch by advertising on social media such as Facebook and posted on groups and pages every day until late at night. I also attended fetes and fairs with a stall to advertise my work. I started on my own straight away alongside another experienced dog groomer to help me along the way.
What do you love most about your job?
I love being around my clients' dogs – they make me so happy. In fact, animals just make me super happy in general. I also love the bond I have with my clients. When a new client comes to my salon, I love transforming their dog into a style they desire. When I see how happy they are when they collect their dog, it makes my job worthwhile.
I also love the fact that I can choose my own working hours and do as little or as much as I like. I have the freedom to run my business the way I want to.
Is there anything you dislike about running a business?
The paperwork side of the business is not glamourous. I also find it tough when a dog sadly passes away. I hate goodbyes as I bond with the dogs like they are my own.
What key skills do you need to be able run a successful dog grooming business?
People skills. Without these you will not have good clientele. You will also need a natural love for dogs and the confidence to be honest with clients if there is a dog you do not want to groom, for example, due to aggression. Explain this to the client and recommend another dog groomer, where you can, that specialises in grooming aggressive dogs.
Do you have any tips to share with aspiring dog groomers who may also want to start their own business?
Dog grooming is how you make it in business. If you want to run a top-end salon you must charge for the products you use. Always charge your worth with what you do. I have been very successful with my own business, but I have worked incredibly hard to get there – and hard work pays off. You do not need top-of-the-range products and equipment. I started with second-hand items that I still own now. You can buy more items as you go.
The great thing about dog grooming is you are always learning as there are so many styles and cuts you can do. You will need to have qualifications and insurance before you open your own salon. I also highly recommend going on an animal first-aid course and getting some work experience in a salon if you can.
You need a lot of patience as a dog groomer as some dogs are scared, naughty or even aggressive – you must know how to handle these behaviours correctly. It is not about cuddling cute puppies all the time (I get asked this a lot and I wish it was!). It is a very physically demanding job as you need to lift dogs, and it is important to look after yourself in the process.
If you want to start your own dog grooming business, my best advice would be to stay positive and work hard. It will be hard in the beginning but be persistent and you will get to your dreams.
Study dog grooming at Capel Manor College
If you, like Alisha, have a passion for dogs and wish to start your own dog grooming business, explore our dog grooming courses in Enfield.
For further information and advice, come along to an Open Day or Advice Evening to get advice from our expert tutors. Register your place here today.