Planting Hope: The Enfield Living Memorial
In the centre of Enfield Town Park, a profound tribute has taken root; a living heart-shaped memorial paying homage to those who lost their lives to Covid-19.
The College is proud to have played a role in this project. From March through to April 2023, our arboriculture students and tutors joined hands to plant the seeds of remembrance. The project has been made possible through the generosity of numerous sources, including donations from public and local groups, companies, businesses and the Lottery Community Fund. Facilitated by a group of community partners, the project has been led by the Soroptimist Club of Enfield working with local artist Joe Robinson.
On Sunday 24 September 2023, the memorial was officially inaugurated. Over two hundred individuals gathered for an informal open event. Visitors were invited to explore the memorial, leaving personal messages of remembrance tied to the trees. A local children's choir graced the occasion with poignant melodies, and heartfelt words were shared by the president of the local Soroptimists group, extending gratitude to all involved.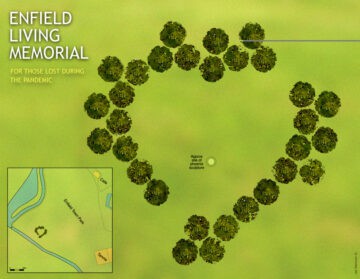 The completed memorial is more than just trees; it is a sanctuary for both personal and collective contemplation. Stretching over thirty metres in width, the heart-shaped spread of trees symbolises the collective loss and bereavement of our community. 
The feedback from attendees has been overwhelming, with praises for both the memorial and its sculptural design. The enigmatic words etched into the sculpture sparked thoughtful conversations, adding depth to the experience.
Among the voices of appreciation, one message stood as a powerful testament to the impact of the memorial:
"I lost my 59-year-old father to Covid in 2021. I can't tell you how much it means to me to have a memorial such as this in my own town. My mother, who is wheelchair-dependent, has never been able to access a memorial for my father, but now she finally can as it's nearby and accessible. Thank you all for your efforts and the beautiful thought and design."
The selection of Enfield Town Park as the site for this living memorial was deliberate. Nestled at the very heart of the Borough, it offers easy accessibility via public transport and ample parking options, ensuring that everyone in the community can find solace. As the seasons change, the Enfield Living Memorial will stand tall, offering a place for reflection to all who seek it.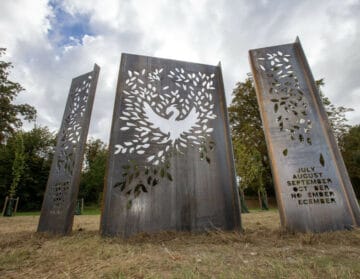 For further information about the Enfield Living Memorial including details about how to visit, go to www.enfieldlivingmemorial.org.
Photo credits: Enfield Living Memorial / Joe Robinson XL