Endangered Species Day: Saving the Scottish Wildcat
Endangered Species Day takes place annually on the third Friday of May. This day was created to remind people of how fragile the existence of some animals, plants and insects are, and to encourage us all to learn about why it is so important to protect these species.
This year, we are shining a spotlight on the vital work our Animal Management department led by Head of Animal Management, Nikolaos Karantanis, and Animal Encounters Officer, Meg Wilson, are doing with students to protect the rarest and most threatened mammal in the UK – the Scottish Wildcat.
What is the Scottish Wildcat? 
The Scottish Wildcat (Felis silvestris silvestris) is a European wildcat that is found in the Scottish Highlands. Historically they lived across Britain, but they are now on the brink of extinction and are found only in parts of Scotland.
In 2007 they became listed as a priority species under the UK Biodiversity Action Plan and protected under UK and European law and the Convention on International Trade in Endangered Species (CITES).
Why are Scottish Wildcats an endangered species? 
In 2018, the IUCN Species Survival Commission (SSC)'s Cat Specialist Group – a science-based network of more than 9,000 volunteer experts from almost every country of the world – carried out an independent review of the conservation status of the Scottish Wildcat. Due to hybridisation, disease and accidental persecution, the Group concluded there was no longer a viable wildcat population living wild in Scotland. Captive breeding and working towards 'safe release sites' are now the only hope for this critically endangered species' survival.
Capel Manor College are proud to support through education
Today, British zoos exist to educate, conserve, research and offer recreation.
Here at London's environmental college, being able to actively play a part in conserving species is not only a requirement but a privilege. Our six campuses are home to over 200-acres of land which include two zoos, one city farm, one organic working farm and two animal collections housing over 1,500 animals.
We contribute to conservation in several ways, and at the heart of all these efforts are our staff and students who continue to drive them forward every day.
We produce surveys to monitor local wildlife, actively choose greener tools to work with, and our students take part in eco trips both in the UK and abroad to give their time to projects that need extra assistance.
How are Capel Manor College preserving the Scottish Wildcat?
In 2017, we worked with the studbook holder and Saving Wildcats to welcome our first ever Scottish Wildcats, Nevis and Monroe, to our zoo based at our Enfield Campus in North London. They are both ambassadors for their species – unable to return to the wild – and play a vital role in educating future keepers and conservationists.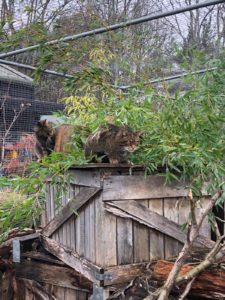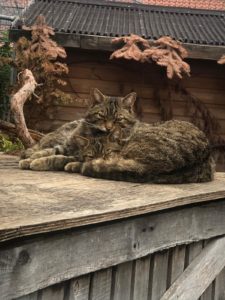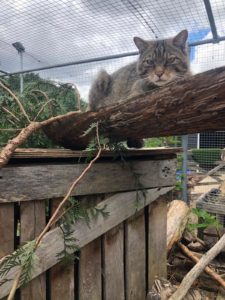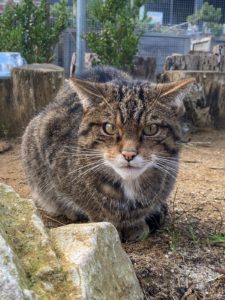 This year we will be growing our capacity to keep more wildcats at our animal collection based at our Mottingham Campus, which will enable a wider audience to see this British species and be educated on the importance of conserving them.
But our efforts to conserve the wildcat species does not stop there. In fact, it now extends into Europe thanks to Nikolaos. As well as other dedicated lecturers who are part of research and conservation projects to save endangered species, Nikolaos is leading the way to ensure the fate of the European Wildcat – the only wild feline in Greece – does not succumb to the dismal fate we are seeing with other local wildcat populations across Europe and the UK.
Wildcat Project Greece aims to contribute to understanding the ecology and conservation of wildcats by tracking them in the field. This will be done by collecting data using cameras, radio marking and methods of biomarkers to understand these elusive creatures and is essential when ensuring their survival.
Their project team have recently been accepted to present at the peer-reviewed International Conference of Wildlife Ecology and Biodiversity Conservation (ICWEB). They will be presenting a paper on "Activity pattern of the European wildcat in Northern Greece using GPS telemetry and accelerometer logging data".
Find out more 
Having the ability to keep species in our animal collections to educate our students and the wider public allows us to portray important messages whilst giving our students the opportunity to work with some of the rarest, most endangered animals in the world.
To find out more about Saving Wildcats, visit savingwildcats.org.uk
To find out more about Wildcat Project Greece, visit wildcatproject.gr/en
Alternatively, if this post has sparked an interest to start a career in animal management or wildlife conservation, speak to our Animal Management team at an upcoming Open Day or Advice Evening. Register your place here today.