Celebrating College's Week
This past week Capel Manor College has enjoyed celebrating the Association of College's (AOC) Colleges Week, where we have focused on the amazing work that our staff and students do year-round to make the College a great place to be.
As London's only environmental college, our students study hands-on, practical courses about nature, animals and the environment. Our students gain real-world experience and skills across some of London's most prestigious parks, as well as our very own gardens, grounds, zoos and farms. We also actively encourage our students to participate in national shows and competitions.
We are proud of all our students and College's Week is a great way to share some of their recent successes:
Sally Williams Wins at the SGD Student Awards 2022 with Sustainable Garden Design
The Society of Garden Designers announced 20 winners in its 10th annual SGD Awards in September that celebrated inspiring projects from a wide cross-section of Members. In the Sustainability category, Sally Williams, who studies garden design at Capel Manor College, became the first designer to win the brand new award, for her project 'Ingrid's Garden'.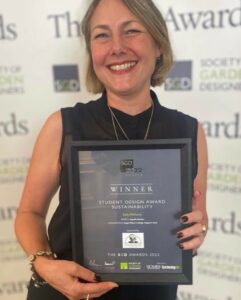 Sally designed a wildlife-friendly space with a layout reminiscent of a woodland trail, incorporating a recycled woodchip-lined path, organically shaped beds filled with seasonal perennials, a wildlife pond, fruit trees and bulbs and evergreen shrubs, to attract birds and insects and to create habitats.
Judges described Sally's creation as, "A lovely garden demonstrating a sensitivity to the environment in its design, plants, planting and materials. The simple things usually work best and here, this is the essence of a subtly worked design."
Ralph Wyld's 'Phoenix Border' Features at the Belvoir Castle Flower & Garden Show
One of Capel Manor College's garden design students' Ralph, featured at this year's Belvoir Castle Flower & Garden Show, having been selected as part of the 'Countryside Borders' competition, sponsored and adjudicated by the London College of Garden Design.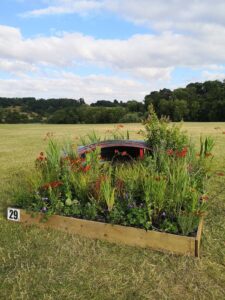 The design celebrated the 30th anniversary of Aldershot Town Football Club, a 'phoenix club' that rose from the ashes of Aldershot FC in 1992. With planting inspired by both the club's colours of red and blue, as well as fiery tones, and surrounding a focal point of corrugated iron, that symbolises the Recreation Ground, home of 'The Shots'. An unusual feature-plant, a callistemon (or Bottle Brush) is the border's literal phoenix; the seed capsules that form the flowers remain on the plant until wildfires arrive, when they are released, bringing new life from the ashes.
Capel Manor College Students Win 14 Awards at Hertfordshire County Show
The Hertfordshire County Show is organised by the Hertfordshire Agricultural Society, a registered charity whose aim is to educate Hertfordshire communities and celebrate food, farming and the glorious countryside.
Capel Manor College's agriculture and animal management students that competed in the livestock show won a staggering 14 awards, with the majority in first, second and third places. The College also received the most points for its participation in the Grand Parade.
Young People Gain Vital Industry Skills with The Queen's Green Canopy Project
Last year, Capel Manor College was delighted to be associated with the Queen's Green Canopy project, and developed a successful pilot training programme to engage young people with trees, plants and the natural environment.
Participants in the course were from different backgrounds and experiences across London, who shared common interests in working outdoors, supporting the environment and learning while doing hands-on work. Experienced tutors from our arboriculture, wildlife and conservation team and curriculum leads at the College developed a training programme using a range of activities to engage, develop and inspire. The course involved practical horticulture, plant and tree identification, planting specimen trees, and learning about the care and maintenance of trees and how to support and protect them.
Meet our Tutors
At the heart of Capel Manor College is a team of experienced and passionate tutors who live and breathe the courses they teach. For College's Week, we would like to share a bit more with you about our tutors:
Meet our shoemaking tutor, Sebastian Tarek
Sebastian is an Australian-born bespoke shoemaker who has come from a long line of shoemakers stretching back to the early 1600s.
Find out more about his shoemaking career and the reasons why he loves to teach at Capel Manor College in the video interview below:
Meet our British Florist Association, Floristry Tutor of the Year Nominee, Amanda Watts
Capel Manor College's floristry department excelled at this year's BFA Industry Awards. The department was shortlisted within the top five for Training Provider of the Year 2021; whilst one of our floristry tutors, Amanda Watts also earned a top five nomination for the Floristry Tutor of the Year award.
Find out more about Amanda's experiences in the floristry industry and why she decided to teach at Capel Manor College here.
For more inspiring stories and updates about our students, staff and alumni, you can find regular updates via the Success Story section of our website, as well as the latest news and interviews via our News section.