Career Advisors from Local Schools Visit London's Environmental College
A group of career advisors from local schools in and around North London visited Capel Manor College's Enfield Campus last month for an informative tour of the College's unique teaching facilities.
The purpose of the event was to share information about the College's hands-on, practical courses and apprenticeships with their guests, and demonstrate why London's only environmental college is a great alternative to A levels.
The event was also a great opportunity for the career advisors to meet tutors to find out more and get an insider look around the College's teaching facilities.
As part of the event, the career advisors were given a tour of the campus grounds that include over 30-acres of parkland and gardens, a mini zoo and dog grooming salon.
Tutors from various subject areas met with the career advisors to tell them more about Capel Manor College's provision for 16 to 18 year olds.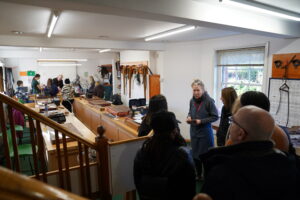 Their first stop was the leather workshops where they learnt about courses available in saddlery and shoemaking.
Capel Manor College offers historic and prestigious qualifications in saddlery and shoemaking with The Worshipful Company of Cordwainers' Diploma in Saddle, Harness and Bridle Making, The Worshipful Company of Saddlers Certificates and the Access to HE Diploma in Shoemaking. All courses are taught through practical demonstrations and hands-on workshops, equipping students with the right skillset for embarking on careers in the leather industries.
Career advisors learnt about the College's courses in agriculture, arboriculture, and wildlife and environmental conservation.
Students studying agriculture at the Enfield Campus, gain first-hand farming experience working at the College's certified organic farm – Forty Hall Farm – situated just a few minutes away.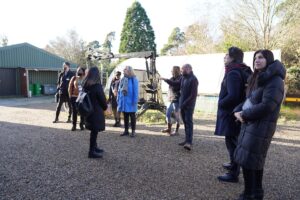 Arboriculture (tree surgery) involves the planting, care and maintenance of individual trees in woodlands, rural and urban areas. Trees are essential to the future of the planet and the career advisors discovered how arborists play a vital role in protecting wildlife by ensuring trees are healthy.
Capel Manor College's wildlife and environmental conservation courses teach students the specialist knowledge required along with gaining the extensive hands-on field experience needed to manage habitats, conserve wildlife and the environment.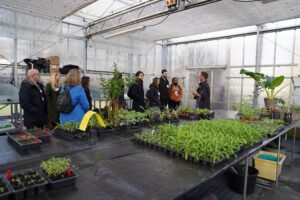 Career advisors also witnessed diverse lessons taking place including, a horticulture lesson in action in the polytunnels. The College has an unrivalled reputation for its courses in horticulture and professional landscaping and garden design, teaching the most up-to-date skillset needed for the industries.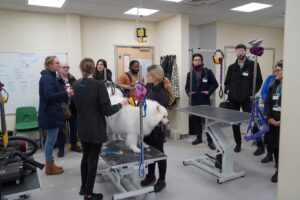 Students studying dog grooming were hard at work grooming long-haired dogs in the parlour. The visiting career advisors were impressed to discover that the parlour is a real working environment allowing students to practice their skills in a professional capacity.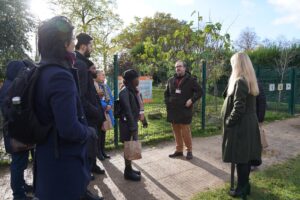 The group visited the College's mini zoo and found out more about its animal management courses, including its higher education provision from its Director of Studies Land-Based (Animal Management and Saddlery), Nikolaos Karantanis.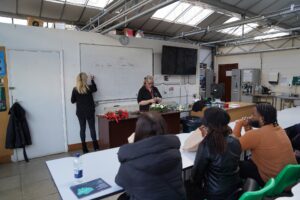 Tutors from the floristry and event styling department demonstrated how both flowers and balloons are used together in designs, presenting each career advisor with a beautiful piece to take back to their schools to show their students.
Finally, after a very productive morning the career advisors joined tutors, staff and Vice Principal Denise Lloyd for a networking afternoon tea to further discussions about the ways that the College and local schools can work together to educate young people about the benefits of land-based studies and careers.
Capel Manor College's Schools Liaison contact, Gabrielle Walker said,
"We were honoured to welcome career advisors to our Enfield Campus to find out more about our courses. As London's environmental college, we help young people to explore a practical, vocational route after school, and kick-start their careers in our natural world. The event was a fantastic opportunity for them to see first-hand just how unique the College is."
Feedback from the event was all positive as guests in attendance reported enjoying their visit and finding it very insightful. All planned on sharing what they had discovered with students at their respective schools.
The school liaison team plan to offer similar events at their other campuses across London next year.
If you work at a school and want to find out more about courses, or would like a representative from the College to attend one of your events, please visit the Resources for Schools portal, where you can download resources and contact the Schools Liaison team.
If you are thinking about studying at Capel Manor College, browse courses here.