Capel Manor College Collaborates with The Royal Parks Charity
Students studying garden design at Capel Manor College's Regent's Park Campus submitted a variety of high-level designs to be chosen by the Park Management team at The Regent's Park, as part of an annual initiative between the two organisations.
The winning design was a new, perennial mix border scheme that focused on sustainability and increasing biodiversity by Jack Pledger.
In early May, Capel Manor College students and apprentices gathered to help Jack bring his design to life, under the guidance of The Royal Park's Head Gardeners. Jack's design can be found in the Waterside area – which overlooks the boating lake to the west of The Regent's Park.
Replacing an existing seasonal bed, the new scheme features a mix of robust Evergreens and deciduous plants, ensuring it will retain interest year-round, with a much lower carbon footprint. The soil will not be disrupted seasonally which will allow for healthy soil biome to be reinstated and stable, wildlife habitat emergence.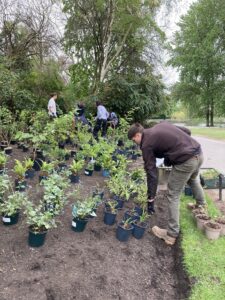 The border features a mix of herbaceous perennials, scented and flowering shrubs with a focus on planting that will shine in late winter, using Red-stemmed Cornus alba 'Sibirica' and Helleborus foetidus. The planting provides a nice link and continuation to the existing planting to the east of The Regent's Park, with the use of Hakonechloa macra repeated through the design. The planting is importantly lower maintenance than the previous planting.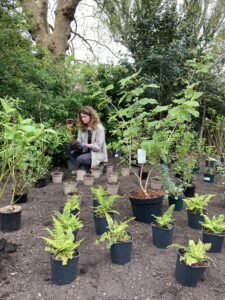 Aside from providing much needed winter and early spring interest, the new planting will also provide food for pollinators during challenging times of the year. The plants chosen are also more drought tolerant which is important in the context of dry summers.
Capel Manor College's Head of Horticulture and Garden Design, Sophie Guinness said: "This is a really successful planting design that fits beautifully into the existing scheme, we are thrilled that our students have been able to work with The Royal Parks on such an interesting project."
Pawel Szynkarczuk, Assistant Park Manager for The Regent's Park said: "Well done to Jack Pledger from Capel Manor College for his winning design that fitted our brief perfectly. The border located in The Regent's Park will provide winter and early spring interest, food for pollinators, and will be drought and shade tolerant.
"It will be a mix of perennial, herbaceous, scented and flowering shrubs and as a result, the border will not need to be replanted seasonally. This is in line with The Royal Parks' charity's sustainability and biodiversity goals of reducing water use and increasing pollinator friendly planting in our ornamental beds."
Capel Manor College offers a range of full and part-time, nationally-certified courses within garden and landscape design. The College has a long-established reputation for delivering garden design courses of the highest quality with a core focus on today's challenges of climate change, sustainability, and health and wellbeing.