A Celebration of Sustainable Design
Horticulture and garden design graduates, Josh Parker and Matthew Butler, had their talent recognised earlier this year when they secured a spot for a show garden at RHS Hampton Court 2023. This opportunity became a platform to showcase their innovative approach to sustainable garden design.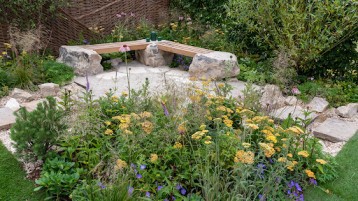 Josh and Matthew honed their expertise for four years at Capel Manor College before graduating in 2021. Their passion for nature and design culminated in the establishment of Butler and Parker Garden Design, a venture that has flourished over the past three years.
Their creation at RHS Hampton Court 2023, "The Inghams Working with Nature Garden," stands as a tribute to the serenity and rejuvenation one experiences in the great outdoors. Drawing inspiration from Inghams' scenic destinations, the garden imitates environments that are similar to the breathtaking Alps. Natural stone gravel tracks wind through the space, while stone benches offer a tranquil spot to listen to the gentle flow of running streams, surrounded by the beauty of glade-inspired planting.
Stepping stones lead visitors across a shallow creek, designed to come to life during heavy rains, guiding them to the heart of the garden. Here, seating made from natural materials provides a sanctuary for reflection, sheltered beneath the canopy of multi-stem trees and embraced by lush vegetation. The fence, crafted from willow, mirrors the graceful movement of water, forming a seamless circle.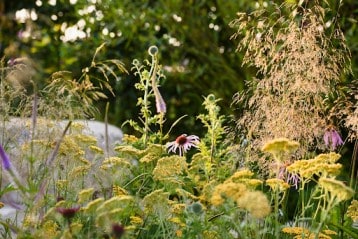 In harmony with Inghams' commitment to sustainability, the garden works with nature, not against it. Rainwater is collected and filtered through the planting, ensuring cleaner waterways and reducing the need for additional irrigation. This allows more time to appreciate the garden's beauty.
The planting palette, inspired by European woodlands and glades, is carefully selected to withstand the UK's changing climate. Flowering perennials and grasses offer a tapestry of textures and colours, capable of thriving in temporary periods of flooding and drought.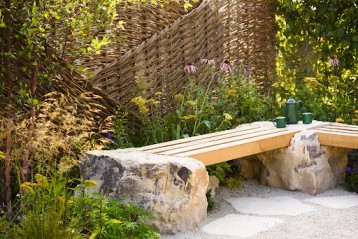 The garden stands as a testament to the possibility of creating enchanting spaces while minimising environmental impact. Techniques such as passive water collection and runoff redirection optimise water usage, affording the client more time to enjoy the garden.
Key materials like the willow-woven fence, compacted gravel patio, York stone stepping stones, and a dry river bed were chosen for their functionality and aesthetic appeal, seamlessly integrating into the garden's design.
Incorporating Swale pits, typically reserved for public spaces, proved to be an innovative solution to mitigate the effects of climate change, even in private gardens.
Now residing at Ark at Egwood, the garden serves as a space for connection and relaxation. Situated in an area prone to winter flooding, it provides practical solutions for water runoff management. Acts of Random Kindness (ARK) at Egwood exemplifies community integration, fostering inter-generational collaboration.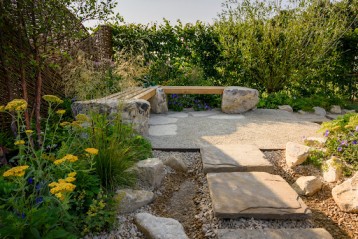 With Gillenia trifoliata and Salix as emblematic plants, the garden stands as a testament to resilience and adaptability, thriving in various moisture conditions.
Josh and Matthew Butler's innovative approach to sustainable garden design exemplifies their commitment to harmonising humanity and nature. Their show garden at RHS Hampton Court 2023 is a testament to their dedication and creativity in shaping spaces that inspire, rejuvenate, and promote environmental stewardship.
If you are keen to begin a career in garden design, then why not study a garden design or horticulture course at Capel Manor College? Browse our courses today or register to attend an upcoming event at a campus near you.
You can also follow Josh and Matthew's garden design venture on Instagram @butlerandparker or by visiting their website at www.butlerandparker.com.
Photo credit: © Joanna Kossak