Course overview
This course aims to educate highly-skilled professionals to be strong contributors towards global conservation efforts. It focuses on the particular strengths of both Capel Manor College and the Royal Agricultural University, as well as the unique locations of both institutions, to provide a broad understanding of holistic approaches to wildlife management and conservation, predominantly focusing on fauna.
You will gain advanced wild animal management skills, including in applied technology, whilst furthering the business and enterprise skills you need to work in or manage conservation projects. The programme will empower you to further develop applied skills, academic research skills and core knowledge required to work in animal reserves, wildlife rescues, conservation organisations and field-based conservation research both nationally and internationally. You will also have the opportunity to go on international conservation trips to enhance your applied field work skills, for example, students have been taken to South America, South Africa and the Isle of Man. This course is currently subject to validation but you are encouraged to apply through UCAS as soon as possible.

UCAS course code: D108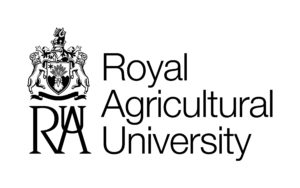 You will learn
Wildlife management
Species evolution and ecosystems
Behavioural ecology
Ecology, species tracking and identification
Conservation surveying technology
Ecosystem services and sustainability
How to conduct an honours research project
BSc (Hons) Animal Biodiversity and Conservation – Royal Agricultural University
Applicants should confirm their ability to study on the BSc Top-Up by presenting evidence of a foundation degree or a HND award (Merit) in animal science, conservation or another subject related to the BSc Top-Up.
Successful completion of this BSc Top-Up provides a clear route if you are seeking a career in field conservation, wildlife management, field ecology, wildlife behaviour, conservation science or wildlife projects. Alternatively, students can continue their education by undertaking a master's degree or a PhD in animal conservation or ecology.
Tuition fee loans cover the cost of your undergraduate course fees, and are paid directly to the Royal Agricultural University.
There is no age limit on eligibility for tuition fee loans, so anyone can apply, providing that they are going to be studying for their first undergraduate degree.
Depending on where you live, there are different options available, and you will need to apply to different organisations. Students from England can apply for a tuition fee loan wherever they choose to study in the UK.
A means-tested maintenance loan is available to all students who are eligible for student finance. Adult learners can apply for grants and bursaries to help pay for courses and training.
Check the tuition fee costs for your course on the UCAS search tool.